June 1, 2007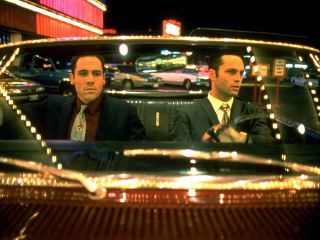 Las Vegas Sun
Former US Men's National teamer Paul Caligiuri may be on the verge of doing something that may have a drastic impact on the soccer landscape in the US yet again. The author of the goal that qualified the US for Italy 1990 is the face person of a group that is ready to give MLS $35 million for an expansion team to play in Las Vegas.
This group reportedly has plans for a $500 million complex that will include retractable-roof stadium, an adjacent hotel and casino, practice fields and other amenities on 200 acres.
Apparently MLS isn't jumping up and down at the thought of being the first major league sport in Sin City, but I don't understand why. Being the first into a market like Las Vegas would be a coup for a league that is making plenty of strides forward. And adding another ownership group who's net worth is in the billions can onyl help the stability of the league as well.
There is also a new story on the potential Pacific Northwest expansion on The News Tribune.com. The Kestons don't appear to be any closer to deciding between Portland and Seattle than previous articles have talked about. But, it is interesting to read that their ultimate plan in Seattle would be to use Qwest Field, the current home of the USL 1st Division Seattle Sounders and the home of the NFL's Seahawks, would be a temporary home as they look to build a soccer specific stadium in the area.
Dueling blogs on Rhinos Soccer.com
Scott Palguta is back with a new entry of his Bloggin' With Palguta II. But joining Scott in the blogosphere is Rhinos Women defender and Parade All-American from Mercy High School, Gretchen Miller.
I'm surprised that Gretchen didn't have an 18th birthday post on Wednesday!
Kasey Keller asking for too much money from Real Salt Lake?
It appears that the Kasey Keller to Real Salt Lake deal could be falling apart. Apparently Kasey wants more money than Real Salt Lake is willing to give up for the US International goalkeeper.
Without knowing what Keller is looking for, I'd have to think that he would be worth what Claudio Reyna is getting from the Red Bulls. Reyna is making just over $1 million in base salary and a total guarantee of just over $1.25 million from NY. Add in that Keller doesn't have the injury issues that Reyna has and I can't see why Keller wouldn't be worth that much to a team like Real Salt Lake that needs to start winning.
But, I also can't see Keller retiring if a European club doesn't come calling this offseason. I know he feels he's worth more than $300,000 a year, but I would hope that he would be willing to take an offer like that to play in MLS.
But we shall see...........
Drew Carey vs the USMNT
US Soccer.com
Drew Carey will be putting up $100,000 of his own money as he challenges six US Men's and Women's National team players in EA Sports FIFA Soccer 07 on XBox 360.
Drew will donate $10,000 to the Mooch Myernick Memorial Fund for each game he loses to five different USMNT & USWNT players. Drew will then put up $50,000 when he takes on Landon Donovan in the finale.
Given the popularity of video games, I'm surprised something like this isn't used as a marketing tool by the Rhinos at games. The Rhinos could probably get a local video gaming store to donate a video game system or two, TVs, and games in exhange for a little publicity and then the Rhinos can have players that aren't in the 18 man roster playing fans before games.
I'm sure a lot of teenage fans would love to take on a Rhino in FIFA 07.
Youri Djorkaeff looking at making a comeback with the Red Bulls?
Well, the Red Bulls wouldn't have to worry about Youri taking off to watch France play in the World Cup this time around.........
And I know it's a crazy idea, but what about the Rhinos looking into adding Djorkaeff to their midfield? The Rhinos tried to lure Tony Meola out of retirement after Scott Vallow got hurt, so why not try and lure Djorkaeff to Rochester to help boost the offensive attack by adding a solid attacking midfielder?
The views and opinions expressed in this column are those of the author, and not necessarily those of the Rochester Rhinos or SoccerSam.com. Feel free to send any comments or complaints to news@soccersam.com. James promises to read (but not to respond) to all of them.