May 16, 2007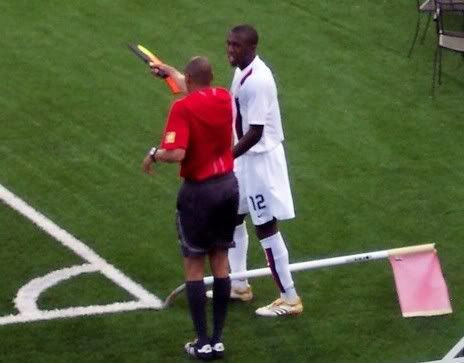 Rhinos Soccer.com
US Soccer.com All Access Video - Day One in Rochester
There will be plenty of people that will dwell on the fact that the final score was 1-0, that the US was on the wrong side of the result, and only 3531 fans were in attendance.
However, I'm just going to remember the positive experience I had last night when I had a chance to see some of the bright young talents in American and World soccer perform in my hometown.
While I doubt he was all that pleased with his performance, it was really cool to see Josmer Altidore play live for the first time. Altidore is becoming one of the big time hopes for the future of US Soccer as quality forwards have always been at a premium in US Soccer history. Altidore's early success in MLS and his being a featured in a national ad campaign by adidas shows that fans aren't the only ones that feel like the kid has potential.
I got to see Johann Smith show of his world class speed. Smith was a player that soccer heads had heard about prior to this week, but hadn't really seen in action as he is currently playing in club soccer in League One in England at Carlisle United. Smith is on loan from EPL club Bolton and only had a handful of substitute appearances on his resume prior to the move to Carlisle. Personally, Smith didn't disappoint as his speed and touch were fun to watch.
And then you have the Freddy factor. Some may think that Freddy's bubble has burst. However, I think he's just a kid who had unrealistic expectations heaped upon him at a young age. Most players that have yet to hit their 18th birthday would be deemed as huge successes if they were named the captain of their U-20 national team. However, because Adu hasn't transformed into the best player in MLS yet and people hold it against him is a joke to me. Keep in mind that at Adu's age, LeBron James was still playing high school ball and Michael Jordan was years away from making his pro debut.
Last night, Freddy's touch on the ball and his free kick that missed going in by inches were worth the price of admission all to themselves. Although, I could do without the squealing teenage girls that apparently think that since Freddy plays for Real Salt Lake that he can marry all 5 of them at once.
For those that complain about the level of play in the USL and didn't go to this game, you don't know what you missed.
This is the name dropping portion of the show
US Soccer President Sunil Gulati, US Men's National Team head coach Bob Bradley, and NY Red Bulls Technical Director Jeff Agoos took in the match in the suite level last evening. Gulati and Bradley will be headed to NYC today to announce that Bradley is losing the interim tag and will be the permanent USMNT coach.
And sitting in Section 125 were Rhinos captain Scott Vallow and midfielders Ryan Wileman, Aaran "Kiwi" Lines, PJ Scheufele, and Kevin Burns.
The Best of Times and the Worst of Times in MLS
Jeff Bradley has a piece on MLSNet.com about some of the best atmospheres ever at MLS matches. This was spurred on by the great showing at BMO Field on Saturday as Toronto FC got their first win ever in MLS over the Chicago Fire. Toronto fans have even written an open letter to the various detractors of soccer, MLS, and Toronto FC.
And while the atmosphere at BMO Field was great, the same can not be said for the crowd that showed up on Sunday to take in the NY Red Bulls game versus the Colorado Rapids at Giants Stadium. Ives Galarcep has an article about the crowd of less than 8000 that came out on a beautiful Sunday afternoon to see Juan Pablo Angel's home debut for Bruce Arena's previously unbeaten squad.
With Houston moving forward in their plans to get a stadium built and expansion to San Jose and the Pacific Northwest being talked about, the big question is what does it take to create a great atmosphere at MLS matches?
The argument has been made that one player can not make a huge impact in the stands. And while David Beckham may not apply, it appears that Angel and Reyna certainly haven't made a huge impact on attendance at Red Bulls matches as of yet.
So with people in Rochester hoping that some white knight will ride into town and deliver an MLS team to Rochester soccer fans, the question is will the white knight and the Rhinos be able to create an atmosphere like they have at BMO Field or will it be the lack of an atmosphere that you get at KC Wizards, NY Red Bulls, or Columbus Crew home matches?
With the Rhinos looking for attacking options..........
Dundee United striker Collin Samuel has had his move to Toronto FC blocked by Canadian immigration.
The Trinidad and Tobago striker is reportedly being chased by 6 or 7 other MLS clubs, so perhaps it's out of the question. But, if they were calling around to try and get a veteran goalkeeper to hold the fort while Scott Vallow recovers from surgery to repair his ruptured biceps tendon, it would appear that Samuel would be worth a few phone calls.
Another interesting option would be NJ high school sensation Jose Angulo who has signed with an agent and is foregoing college options. He is currently training with the NY Red Bulls in an attempt to get into a professional environment and prepare himself for trials with European clubs that have shown interest in the young left footed striker.
Why not look into signing him for a month or two and get him some professional game experience?
The other thing that was bouncing around in my head last night is whether some of the US U-20 players that aren't getting minutes in MLS would be better off playing matches in the USL?
Amaechi Igwe started at right back for the US last night and he has yet to play a minute in a real MLS match in 2007.
Robbie Rogers leads the Columbus Crew U-20 trio of himself, Danny Szetela, and Tim Ward with 14 minutes of action over 2 games in 2007. Tim Ward did get a broken nose in a reserve match versus Chivas USA, though!
Bryan Arguez has yet to see any action for DC United and Rodrigo Lopez has yet to get into a Chivas USA match in 2007.
Freddy Adu, Josmer Altidore, and Chris Seitz are the three players that have seen regular minutes in MLS this season with Freddy playing every minute of Real Salt Lake's 6 games, Seitz starting in goal twice for RSL, and Altidore having started 5 of 6 Red Bulls matches where he's second in team scoring with 2 goals and 2 assists.
But getting back to the young players that merely get reserve matches in MLS, is that best for the players, the US U-20 team, and ultimately the quality of play in MLS?
Personally, I'd love to see guys like Szetela, Rogers, and Ward spread throughout the USL. Sure, they are young players. But, they also have some serious skills.
I know there are plenty of owners in the USL that hate the idea of being a developmental "minor" league for MLS, but I wonder if that wouldn't be better for the players, the leagues, and ultimately the fans in the long run?
Props to Brian McBride
Brian McBride has been named Fulham's Player of the Season for the second straight year.
Add in that fellow Yank Carlos Bocanegra finished third in the voting and Clint Dempsey has to still be riding high after scoring his $100 million goal versus Liverpool.
The EPL's Team USA looks to be alive and well heading into 2007-08.
The views and opinions expressed in this column are those of the author, and not necessarily those of the Rochester Rhinos or SoccerSam.com. Feel free to send any comments or complaints to news@soccersam.com. James promises to read (but not to respond) to all of them.