June 28, 2007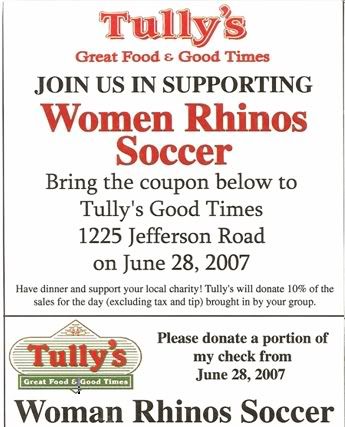 Rhinos Soccer.com
The Rhinos Women will be doing a fundraiser for TOPSoccer today at Tully's on Jefferson Road in Henrietta and then there will be a US-Argentina Copa America viewing party.
Just print off the coupon pictured here and 10% of the cost of your meal to TOPSoccer.
To get ready for the US-Argentina game, you have to listen to the latest edition of the Benny & Sacha Podcast from US Soccer.com and check out the USMNT Blog as well. The big Copa America presser podcast is up. But, it's nowhere near as entertaining as B&S.
And check out the sweet pose by Taylor Twellman in the photo gallery from the USMNT in Venezuela. That Gatorade sponsorship has to be coming soon for Double T.
Jamie Trecker takes a look at his players to watch on the US' Copa America roster. I'm wondering if Charlie Davies will get enough playing time so that people can watch him.
Mexico shocks Brazil
Mexico 2 - Brazil 0
Sure, Brazil was missing players such as Kaka and Ronaldinho, but that is a huge result for Hugo Sanchez and his squad. I wonder if that will get people of off Hugo's back or whether it will amplify the calls for Hugo's head following the loss to the US in the Gold Cup final?
Beasley to Rangers made official
DeMarcus Beasley is officially the second American to don the blue shirt of Glasgow Rangers of the Scottish Premier League. In a move that has been rumored for a while, the Scottish giants have acquired the US midfielder's rights from PSV Eindhoven for around $1.4 million.

Beasley has reportedly signed a 3 year deal with Rangers and the only thing that might stop the deal is getting a work permit. Although, with Beasley's professional and international record, I would be stunned if he were unable to secure a work permit.
Galindo to get some Cuban teammates?
Cubans Lester More and Osvaldo Alonso will go on trial with Chivas USA as soon as they secure paperwork that will allow the defected Cuban internationals to travel from NY to LA.
Chivas USA forward Mykael Galindo defected from Cuba will in the US for the 2005 Gold Cup tournament. More and Alonso took the same chance during this year's Gold Cup tournament.
It's too bad the Rhinos couldn't get Rey Martinez to drive them up from NYC to Rochester over the weekend.......
The views and opinions expressed in this column are those of the author, and not necessarily those of the Rochester Rhinos or SoccerSam.com. Feel free to send any comments or complaints to news@soccersam.com. James promises to read (but not to respond) to all of them.