June 1, 2009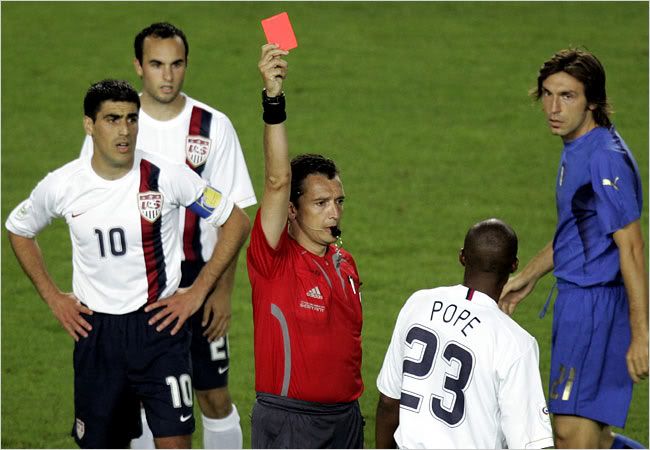 D&C.com - Match story
D&C.com - Naming rights contest
Rhinos Soccer.com - Match report
Rhinos Soccer.com - Naming rights contest
The Rhinos are now 4-0-1 when they don't have a player sent off with a red card and 0-4-0 when they do after losing 1-0 to Montreal in the home opener after Chris Nurse was sent off in the 60th minute thanks to his second caution of the match.
Here are some sobering stats on the heels of Saturday night:
The Rhinos lead the USL 1st Division with 126 fouls committed (Carolina is 2nd with 114).
The Rhinos lead the USL 1st Division with 28 cautions (Carolina is 2nd with 19).
The Rhinos are tied with Cleveland for the league lead with 4 straight red cards.
The Rhinos lead the league in total red cards with 5 (Cleveland has 4).
The Rhinos are also seeing their depth tested with not only the suspensions that are piling up as the team is appealing a four game suspension for Tai Atieno's red card in Charleston and John Ball has also had to serve a one game suspension for picking up five cautions.
Darren Tilley, Brent Sancho, and the players need to figure out a way to curtail the cardfests that have been Rhinos games this season.
I mean, there are five teams (Portland, Puerto Rico, Vancouver, Austin, and Montreal) that have yet to see a player sent off this season and Charleston has only seen one player sent off.
I know this team wants to play aggressive. But, they need to be smarter about it.
Other quick hits from Saturday night:
- Andrew Gregor was good on free kicks. But during the run of play, he struggled. 
- With Nurse out for Saturday's match versus Minnesota (at a minimum), I wonder if they'll go with Tiger and Ze Roberto in the middle of the park? That was a solid combination for the Rhinos in 2008.
- Salles has a cannon for a left foot. Now let's hope he adjusts his sights!
- Leonardo Di Lorenzo jumped up rather quickly once the referee blew the whistle because he was "hurt".
- Who knows how many fannies were in seats. But, that felt like the biggest crowd at the stadium since the opening game.
- It was nice to see a long time sponsor of the club win the stadium naming rights contest. I just wish we knew if the Marina Motors Stadium name is going to stick or not....
News & Notes:
- Someone wonders why Rochester isn't an MLS expansion candidate if all that is missing is a deep pocketed owner....
- ESPN is going "Inside the Lines" with the USMNT. I can't wait for this!
- While Andrea Canales has a point, I still think Azteca is the US's true House of Horrors.
- It looks like AIG will be out as the ManU jersey sponsor.
The views and opinions expressed in this column are those of the author, and not necessarily those of the Rochester Rhinos or SoccerSam.com. Feel free to send any comments or complaints to news@soccersam.com. James promises to read (but not to respond) to all of them.