January 22, 2008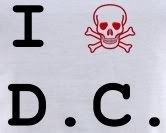 My article I posted yesterday was a casualty of some server bouncing. So, if you read yesterday's article before it got taken down, there will be some stuff here that you've already seen.
Kick This! Archive - 1/19/2008
On Saturday, we were able to ask Kenney Bertz directly about what Coach Calloway had called the "DC Situation" the week prior.
The good news for Rhinos fans is that Kenney said that he told DC to lose his number when they pulled out of contract talks earlier in the off season and said that they wanted to look at foreign options first.
So, not only is Kenney looking to add this to his t-shirt collection, it would also appear that the odds that the Rhinos will lose Bertz to MLS this off season have gotten longer.
News & Notes:
- Ryan Whirty at The Pressbox Powertrip blog talked to Frank DuRoss about wanting to land a team in the new WPS. From what I've read from other sources, the top three markets in the hunt for the 8th team are San Jose, Kansas City, and Cary, NC. So, it would appear that Rochester has a ways to go before they land a team.
And honestly, if Rochester demands that they get Abby Wambach in order for them to join the league, then I really think there is next to no chance of this happening. Washington will say that they deserve Abby because she played for the Freedom in the WUSA. And Abby might say that she wants to play near her home in LA.
But, we shall see......
- TriSoccerFan.com is reporting that the Austin Aztex will join the USL 1st Division in 2009. The club will have strong ties to Stoke City FC in England. Hopefully this works out better than the California Victory set up did.
- SBI.net and the Sideline Views blog are just a couple of outlets that are all over Brad Guzan's trial with Celtic and what a transfer to the SPL club would mean for Chivas USA who will have lost their top 2 keepers during this off season. I really hope Preki doesn't have Scott Vallow's agent's phone number.
- The Seattle Sounders are already spending time on scouting players for their move to MLS in 2009.
- Michael Lewis talks to MLS' Mr. Irrelevant for 2008.
- Does Philly have a lead over St. Louis in the battle for an MLS expansion team? This article at Philly.com believes Don Garber hinted at that. But, you know how much Garber hints are worth.........
- SBI.net is reporting that Joseph Ngwenya has left the Houston Dynamo and signed in Austria. Houston has to hope that Brian Ching doesn't miss much time this year due to national team duty with this loss.
- It appears that the Glazer family aren't the only American owners of an EPL club to come under fire. The American owners of Liverpool are taking some heat now.
- The Red Bulls have announced that taking part in their academy system is now free to all participants. Given that MLS is now allowing clubs to have more rights to players that come up in their academy systems, this news isn't all that shocking.
- Yanks Abroad is reporting that Benny Felihaber isn't looking to move to MLS right now. I hope he finds somewhere to land that will give him first team playing time. How about alongside Michael Bradley in Holland?
- Yanks Abroad says that Heath Pearce is not in Hansa Rostock's plans. I wonder how much a club would pay for a player who's current team doesn't want him?
- The Timbers have added Portland native and former member of Real Salt Lake in Chris Brown. I like that signing a lot for Portland.
- Someone is now selling a 2000 A-League championship ring on eBay. First it was someone selling their 1999 US Open Cup ring and now this? Forget going after the new Rhinos investor, Devo needs to drop everything and get to the bottom of this immediately!
The views and opinions expressed in this column are those of the author, and not necessarily those of the Rochester Rhinos or SoccerSam.com. Feel free to send any comments or complaints to news@soccersam.com. James promises to read (but not to respond) to all of them.