July 13, 2010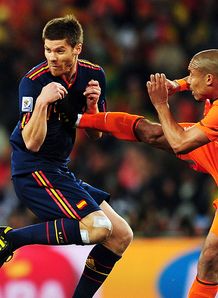 - I can't argue with the World Cup award winners.
- I like Grant Wahl's World Cup Best XI better than Beckham's.
- Here is an interesting ESPN piece on why Americans don't appreciate soccer. Although, it doesn't appear that ESPN is upset with the ratings that they got for the World Cup.
Perhaps they should do a piece entitled "Why Americans don't appreciate MLS soccer".
- If you can still laugh at the LeBron James "Decision", check out this parody of that based on Landon Donovan perhaps moving to Europe.
- Devo takes a look at the Rochester Ravens first win as a reborn franchise.
- Brian Quarstad at Inside Minnesota Soccer is doing a 4 part series on Re-thinking Division-2 Pro Soccer. Great stuff, as usual.
- Steve Nash is comfirming what everyone suspects: Thierry Henry will be unveiled as the Red Bulls new DP on Thursday.
- People are also wondering who the talked about 3rd DP for the Red Bulls will be. Rafa Marquez & Freddie Ljungberg , who have both played with Henry previously, have been thrown out there.
- Gooch could be heading to Glasgow Celtic on loan from AC Milan. I think that would be a good move as he's more likely to play for Celtic than AC Milan.
- Could Blackpool & Everton be jockeying for the services of Michael Bradley?
- No rumor here, Montreal has released forward Roberto Brown. Brown had scored 1 goal and added 1 assist in 12 league games for the Impact in 2010.
The views and opinions expressed in this column are those of the author, and not necessarily those of the Rochester Rhinos or SoccerSam.com. Feel free to send any comments or complaints to news@soccersam.com. James promises to read (but not to respond) to all of them.