July 26, 2010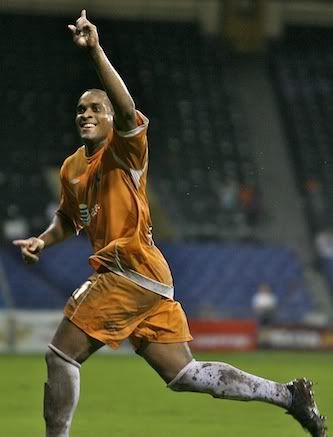 D&C.com
With the short turnaround between Thursday's win in Tampa Bay and Saturday night's game in Puerto Rico and with captain Frankie Sanfilippo back in Rochester awaiting the birth of his first child, the Rhinos fell in Puerto Rico 3-1.
Nicholas Addlery put the Islanders up 1-0 on a bicycle kick and Isaac Kissi tied it up just before the half.
In the 51st minute, Aaron Pitchkolan saw a straight red and David Foley converted the PK that also came on the play.
Chris Nurse picked up his second yellow of the match in the 71st minute. But, the Rhinos couldn't even up the match. With the Rhinos pushing up, Kendall Jagdeosingh converted on a breakaway one v one with Neal Kitson.
The Rhinos road trip ends tomorrow night in Carolina. It will be interesting if the Rhinos can get some revenge for their 1-0 loss to Carolina at home a week and a half ago.
News & Notes:
- John Wolyniec's career with the Red Bulls may be over. There's no way he'd come to Rochester, right?
- I wonder if Omar Salgado will go 1st overall in the 2011 MLS SuperDraft?
- MLS Commish Don Garber has an interesting interview with the Houston Chronicle. He had to get the props for Landon Donovan in there at the end.
- West Ham United may be going after David Beckham and Ronaldinho. 
- Videos of the day include the KC Wizards stadium ad , Landon Donovan pimping Mexican lottery tickets again, and Manchester City playing pick up soccer in NY City.
The views and opinions expressed in this column are those of the author, and not necessarily those of the Rochester Rhinos or SoccerSam.com. Feel free to send any comments or complaints to news@soccersam.com. James promises to read (but not to respond) to all of them.