June 13, 2007
US Open Cup.com - First Round Scoreboard
US Open Cup.com - Second Round Matchups
The Rochester Rhinos advanced in the 2007 US Open Cup Tournament thanks to a 1-0 win over the Long Island Rough Riders of the PDL. Matthew Delicate scored the game's only goal in the 20th minute and the Rhinos held on from there.
The Rhinos will host the Western Mass Pioneers of the PDL at PAETEC Park on Tuesday, June 26th at 7:35pm. The winner of that match will face an as yet to be determined MLS opponent in the 3rd round of the Open Cup.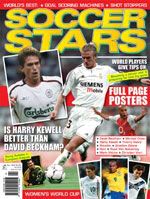 Stars:
- Matthew Delicate got the winner and remained on a hot streak. After starting the season with an eight game goalless drought. Matthew now has 5 goals in his past 6 games between USL 1st Division league play and last night's US Open Cup match. And of those 5 goals, three have been game winners and another was a game tying goal.
- Long Island goalkeeper Timmy Melia was solid in net for the Rough Riders. He made a few key saves and got a lucky bounce off his right post to keep the match close throughout.
- The Rhinos defense was pretty solid and Chase Harrison made the saves that he was supposed to make. While the game was always a lucky bounce away from being tied in the second half, it never really felt like a match where Long Island was going to be able to break through and get a goal.
Bags:
- Will the Rhinos marketing department please stand up. The announced crowd of 3,712 fans was the worst crowd I can ever remember for a Rhinos match. Well, not counting the "crowd" that showed up for last year's Lenin Steenkamp Tribute Match. I don't care if it was a weeknight or that it was a US Open Cup match versus a PDL team. The Rhinos used to be able to have a game like this and get twice as many people to show up. This is just another sign that all is not well with the Rhinos. And it's starting to scare a lot of people.
- The injury situation is also starting to scare me. Ryan Wileman may be done for the year with a knee injury suffered in a reserve match. Kevin Novak didn't dress and had a bandage on the heel area of one of his feet before the game. Mike Ambersley dressed despite having an injury that was supposed to keep him out of action. Nate Craft was also out of the lineup thanks to the knee injury he suffered versus Carolina on Friday. Hopefully some of the bumps and bruises can heal up before Sunday's match with Charleston.
Vallow healing nicely
Scott Vallow wasn't wearing the splint on his right arm last night and he looks to be on track to return either July 28th at home versus Minnesota or August 5th in Montreal.
Scott said that the doctor gave him the OK last week to ditch the splint and they are just waiting for things to calcify around the site of the re-attached tendon. Five to six more weeks is what the timeline looks like today and Scott expects to be able to go full bore once he's back.
Kiwi and Deli named to the USL 1st Division Team of the Week
Deli's two goals (the tying goal in Carolina and the game winner vs Portland) and Kiwi's goal and an assist versus Portland landed the Rhinos duo on this week's USL 1st Division Team of the Week.
I hope to have some fun news on the Kiwi and Deli front soon...........
US finishes Gold Cup group play in style with 4-0 win over El Salvador
With two goals from DeMarcus Beasley, a PK goal from Landon Donovan, and a goal from Taylor Twellman in his home stadium, the US closed out group play with the break out win that many skeptics had hoped to see from the US squad.
Perhaps the move to Boston and away from the hostile crowds of LA were a factor? There certianly was a ton made of Clint Dempsey returning to his former home. US Soccer.com, The Standard-Times, and The Boston Globe all had pieces on Dempsey's return to where he made his mark with the New England Revolution. Add in current Revs like Twellman, Michael Parkhurst, and Steve Rolston, and the crowd was much more pro-US than in the previous two US matches.
With first place in Group B in hand, the US will await Wednesday's results from Group C to find out their quarterfinal opponent. The US will be staying in Boston as they will again play at Gillette Stadium at 4pm on Saturday. The most interesting result would be if the US were to face Mexico in the Quarterfinals when most experts expected that to be the finals match up before the tournament started.
Also of note is the fact that there has been a different captain of the US team for each fo their three Gold Cup matches. US head coach Bob Bradley is using this time not only to search out players, but also whom will form the new leadership core of the team moving forward with the retirement from international play of guys like Brian McBride and "Captain America" Claudio Reyna.
Other News:
- Blackburn Rovers could be another EPL club that is owned by Americans if this report comes true. I wonder what would happen if the day ever came where more EPL clubs were owned by Yanks than by Brits?
- DeMarcus Beasley may be on the move from the EPL to the SPL as Rangers have made an offer for the US midfielder. Beasley wasn't keen on the idea of returning to PSV after it appears that Manchester City won't be bringing him back. So, hopefully a move such as this will work out for Run DMB.
- Ives Galarcep has an update on what's going on with wunderkid Jose Angulo. Since he can't currently sign with an MLS club, I wonder if the Rhinos could sign him to a deal until his try outs in Europe come on line?
The views and opinions expressed in this column are those of the author, and not necessarily those of the Rochester Rhinos or SoccerSam.com. Feel free to send any comments or complaints to news@soccersam.com. James promises to read (but not to respond) to all of them.