December 11, 2006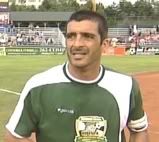 Rochester Rhinos Head Coach Laurie Calloway was on Kick This! this past Saturday and said that Rene Rivas is looking to re-ignite his playing career in 2007 and that the organization is looking into options to retool the men's team's coaching staff, as well as find a new head coach for the women's team.
Calloway didn't know what team Rivas would be playing for. So, it would appear that you could cross the Rhinos off the list already.
As far as player moves go, Coach Calloway had nothing concrete to say at this time. He did say that the plan was to try and re-sign some of their own free agents first and then look at bringing in new players to the squad. Calloway said that they will likely need to bring in a couple of new defenders, a couple of new forwards, and a few new midfielders.
Calloway also said that he doesn't expect Frankie Sanfilippo to return to the Rhinos in 2007. He said that the team had been negotiating in good faith with Frankie, but that another team got involved and the Rhinos have reported something to the USL with regards to how things have played out.
Calloway also mentioned that as far as he knew today, no MLS team has come up with an offer for defender Kenney Bertz and that the team was hoping to have him back in 2007.
Hopefully the Rhinos will have some player signings to announce soon.
Norkus refutes Islanders claims of piracy against the RailHawks
It will be interesting to see how the USL handles this case of "he said, she said".
The Islanders appear to be claiming that they had an agreement with Norkus and he is basically saying that the Islanders wouldn't put anything down on paper for 2007, so he was free to talk to any club that would sign him.
Personally, I have to side with the player if he covered all the medical costs out of his own pocket and there wasn't a signed contract with the Islanders for the 2007 season.
FC Dallas to name Steve Morrow as their permanent manager
Richardson, Texas native and former MLS and US Men's National team player Jeff Agoos, SMU head coach Schellas Hyndman, and DC United assistant coach Tom Soehn have all been passed up by FC Dallas and interim head coach Steve Morrow will be named the fourth manager in the history of the club at a press conference to be held at noon today.
Morrow was the top assistant under previous head coach Colin Clarke and was given the interim duties when FC Dallas announced that they would not be giving Clarke a new contract shortly after the team was ousted from the playoffs by the Colorado Rapids.
Morrow becomes the tenth former MLS player to become a head coach in the league. The Northern Ireland native played ten season for Arsenal prior to joining the Dallas Burn in 2002. Morrow played for the Burn in the 2002 and 2003 seasons and was forced to retire due to a neck injury.
FC Dallas is hoping that Morrow can continue a trend where 4 of the past 6 MLS Cup champions have been run by coaches with MLS playing experience. Dominic Kinnear led the Houston Dynamo to the MLS Cup title this season, Peter Nowak led DC United to the title in 2004, and Frank Yallop led the San Jose Earthquakes to the MLS Cup title in 2001 and 2003.
A "To Do List" for Bob Bradley
Peter Kratzel for Yanks Abroad
It will be interesting to see if Bob Bradley has the job long enough and is given enough power to cross off every item on this list.
Certainly it will be within Bradley's grasp to bench Landon Donovan and he'll have to name a new captain since Claudio Reyna has retired from international play. And it will likely be a high priority for Bradley to cultivate a few more potent scorers up top.
However, given Bradley's interim status as the US Men's National Team head coach, will he be able to do anything with regards to the US Soccer youth system and will he have any real input into who the US will play?
People are already praising the move by US Soccer to accept the invitation to the 2007 Copa America tournament. But, Bob Bradley was most likely not a huge player in that decision. And given the rumors that the Klinsmann deal fell apart over how much control the US coach would have on other aspects of the US Soccer organization, I'm guessing that the powers that be will not take too kindly should Bradley try and exert influence in areas such as youth development.
I would love to see Bob Bradley, or whomever is named the permanent coach, cross off every item on that list and a few more. However, I don't know if the powers that be at US Soccer will allow that to happen.
The views and opinions expressed in this column are those of the author, and not necessarily those of the Rochester Rhinos or SoccerSam.com. Feel free to send any comments or complaints to news@soccersam.com. James promises to read (but not to respond) to all of them.