August 9, 2007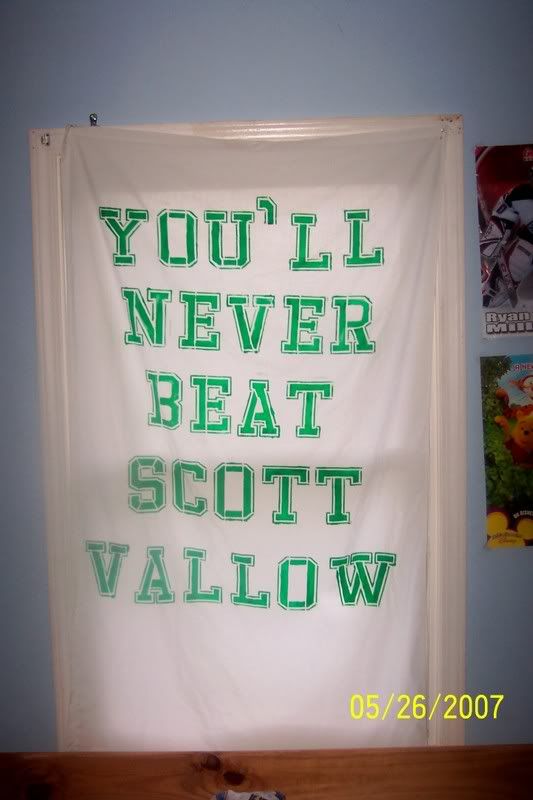 My sons have been told that they should take down their Scott Vallow banner and bring it to the Rhinos-RailHawks game tomorrow night at PAETEC Park.
Vallow has missed the Rhinos last 20 USL 1st Division games due to the torn right distal biceps tendon that required surgery 13 weeks ago.
Last week, Vallow's doctor gave him the all clear. But with the Rhinos coming off the 4-2 win over the Minnesota Thunder, Coach Calloway opted to go with Chase Harrison in Montreal versus the Impact on Sunday.
One can only hope that the return of their captain to the lineup will give the Rhinos the spark they need down the stretch run as they try and lock down a playoff spot.
Brian McBride has been named the captain of Fulham
Brian McBride has been handed the Club Captaincy by new manager Lawrie Sanchez.
The US forward is entering his fifth season with the EPL club. McBride has scored 9 goals in each of the past two seasons and was the team's leading goal scorer in 2006-07.
News & Notes:
- MLSNet.com has the archives of David Beckham's Soccer USA TV show up now. Also, Steven Goff of the Washington Post has a recap of Beckham's press conference ahead of tonight's LA-DC game that will be carried live on ESPN2.
- US Soccer has announced what many people expected as Peter Nowak has been named the US U-23 Men's National Team head coach and will lead them into the 2008 Olympics in China.
- It apepars that Paulo Wanchope could be in Chicago's starting XI when they take on the Crew on Saturday.
- Shep Messing, Danny Szetela's agent, is saying that he's still talking to MLS about a contract extension and a move to AS Roma isn't finalized. Sounds to me like he's trying to jack up the price.
- USA Today is all over Bruce Arena with not one , not two , but three pieces on the Red Bulls manager. And here I thought that David Beckham was the only person in MLS that got coverage like that.
- You have to love the intrigue over MLS expansion. One article says that the Vancouver Whitecaps ownership isn't looking to jump to MLS and another has MLS commish Don Garber eyeballing Vancouver as a possible expansion city. Maybe Vancouver is turning into MLS' newest booty call?
- Check out this article on the new soccer complex outside of Detroit that the Michigan Bucks of the PDL will use.
- Ives Galarcep has a blog posting and an article talking about FIFA Soccer 08 cover boy Jozy Altidore is loking at a move to Europe. With so many of his U-20 teammates making the jump, Altidore appears to not want to be left behind. I just wonder what it would take for the Red Bulls to let him go?
- Vancouver isn't the only Northwest market getting some MLS love. Seattle could be in MLS in the next two or three years. Especially since it appears that there are multiple groups looking into putting an MLS team in the city. Rochester needs one of the groups that loses out to come here!
The views and opinions expressed in this column are those of the author, and not necessarily those of the Rochester Rhinos or SoccerSam.com. Feel free to send any comments or complaints to news@soccersam.com. James promises to read (but not to respond) to all of them.