July 16, 2009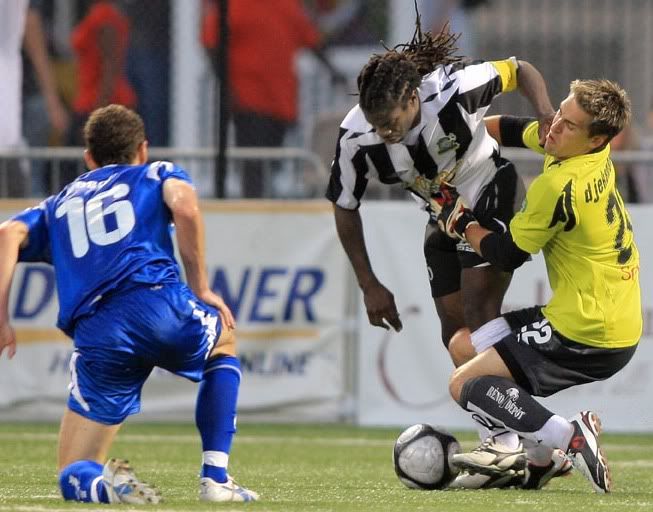 D&C.com
This will likely be one of those games that the Rhinos look back upon at the end of the year and think "We really let two points slip away".
In the last minute or two of regulation and in the four minutes of stoppage time that were added, the Rhinos failed to convert on four different good to great chances.
Kwame Sarkodie had a one time shot from within the box saved by Djekanovic.
Tiger Fitzpatrick one timed a volley over the bar.
Mike Ambersley was 1v1 with the keeper, got around him, put couldn't put his shot past a diving Djekanovicwho got enough of the ball to push it wide of the post for a corner.
Nano Short was set up nicely on the far post on a cross from Ambersley. Unfortunately, it went over the bar and left Kenney Bertz, who was also unmarked on the far post, kicking the signage as it appeared that he might have been in an even better position to head home the winner.
It was the second straight scoreless draw at home in league play after the Rhinos defeated Austin 4-1 on July 5th. And things won't get that much easier for the Rhinos as they look to get their offense on track against Charleston Saturday night. The Battery have the stingiest defense in the league so far this season. Although, they should be a bit tired as they play in Cleveland on Friday night.
The other big question is when can we expect the reinforcements to arrive?
Beckhamania Again
- Dear Becks, Don't mess with Grant Wahl.
- If you are looking for some video from yesterday's Beckham press conference, including the question from Grant to Beckham, here you go.
- du Nord talks to Grant Wahl about the process of writing the book.
- Mr. "Dedicated to MLS" is open to another loan to AC Milan.
- The Red Bulls couldn't care less about Beckham. They need a win!
- Beckham an All Star? Seriously? No, no, and no. At least for me.
- Bill Archer has Part 2 of his Q&A with Grant Wahl up at Big Soccer.com.
- I love this review from a "Recovering Galaxy Fan".
- Ian O'Connor takes a big swipe at Beckham calling him a clown of the first order.
News & Notes:
- Danny Szetela has landed with DC United and he might be in United's lineup on Tuesday night versus the Rhinos.
- Should FC Dallas gotten something for passing on Szetela? Probably.....
- Speaking of Tuesday, Devo's ticked that the game won't be available via the internet. It doesn't surprise me as the only games that have been are those that have been played at USL 1st Division venues with USL Live set ups.
- Spoiler alert [Don't click the link if you don't want the specifics]: US Soccer fans might want to check out the ESPYs.
- Blanco led Chicago past New England and into the SuperLiga final last night.
- I wonder what will be trickier? Getting RenSquare built or getting Portland to MLS?
- These stats on Seattle's attendance this year are pretty cool. Now if only MLS could carbon copy Seattle's success and put in over a dozen markets....
- Could Birmingham, Alabama be on the radar of MLS or the USL?
- I hope this doesn't mean that Sal Zizzo's career is over.
The views and opinions expressed in this column are those of the author, and not necessarily those of the Rochester Rhinos or SoccerSam.com. Feel free to send any comments or complaints to news@soccersam.com. James promises to read (but not to respond) to all of them.