November 27, 2006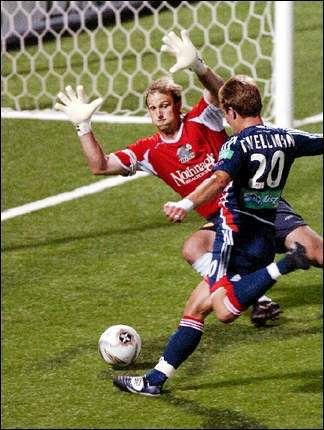 FIFA rules allow a player who's contract is about to expire to discuss a contract for the following season six months prior to his contract expiring.
Rhinos captain Scott Vallow has a contract that is currently set to expire on December 31, 2007. That means that if Vallow and the Rhinos have not agreed to a contract extension, that Vallow is free to talk to Montreal, Carolina, or any other USL team, as well as MLS, on July 1, 2007 about a contract for the 2008 season and beyond.
The good news is that Scott has expressed to the Rhinos a desire to sign an extension with the club prior to his contract expiring. Vallow loves the spot he is in with this club and in this city and he's willing to talk to the Rhinos about an extension and forego any possible offers coming in from Montreal (should they lose Greg Sutton to MLS' Toronto FC as has been rumored), Carolina (you know that Chris Economides and Scott Schweitzer know what Vallow can mean to a team), and MLS (who knows if MLS will be up to 14 teams in 2008 meaning that there are even more starting jobs available).
The question that is hanging out there is will the Rhinos have a real sense of urgency to get a deal done? The Rhinos lost 2005 team MVP Kirk Wilson to Montreal in part because they weren't proactive about locking him up prior to his contract expiring. The Rhinos have also let starting defenders Frankie Sanfilippo and Scott Palguta become free agents this offseason despite the club knowing that they were key young players on the squad.
It also took a while for the team to agree to a contract extension with head coach Laurie Calloway after the season ended.
Hopefully the team will get Scott Vallow locked up to an extension before July 1, 2007. Scott wants it to happen and my guess is that the club wants it to happen. But, until the ink is dry on a new deal, there will be a slight uneasiness in the pit of my stomach when talk turns to the Rhinos' future.
Doug Miller Soccer Striker and Goalkeeper Clinic
Develop the skills to become soccer's most precious commodity -
a goal scorer!
Doug Miller Soccer will teach you the proper techniques and the tactical awareness so you can score goals at ease. We will help you recognize certain situations and react correctly, making the right tactical decision. We will utilize DARTFISH and breakdown this difficult skill into a basic component making it easier for you to understand.
Doug Miller Soccer will teach you the secrets to the "mechanics of shooting". This clinic will include 6 hours of shooting and 1 Dartfish analysis($75 value). You will be able to see your analysis in the "PLAYERS CORNER" in days.
Besides working on the basic mechanics of shooting we will teach you one touch shooting, volleys, heading, 1v1, penetrating runs, near and far post runs. By the time you leave you will have a better understanding of what goal scoring is all about!
Discover how to become Rochester's Elite Shot Blocker!
Be taught by DMS GK Instructor Peter Mastrogiovanni and understand the techniques to stopping shots and cutting down angles. Win more air balls and stop more shots by understanding the technical capacity of becoming a Goal Keeper.

Date: Wednesday, December 27th.
Time: 9 - 12 pm
Locations: Total Sports Experience (TSE)
Cost: $147
Ages: 10- 16 boys and girls
US Women take Gold Cup and punch their ticket for the 2007 Women's World Cup in China
Wednesday evening, the US Women's National Team officially punched their ticket to the 2007 Women's World Cup in China by defeating Mexico 2-0 on the strength of two goals by Abby Wambach.
The first goal wasn't the most beautiful goal in the world as Wambach cleaned up a rebound after Carli Lloyd's shot slipped from the grasp of Mexican goalkeeper Sophia Perez in the 10th minute.
Abby's second goal on the other hand was good enough to make SportCenter's Top Plays. US Captain Kristine Lilly dispossessed Mexican defender Elizabeth Gomez, then she got to the ball just before it crossed the endline for a goal kick and whipped in a beautiful cross to the near post. Abby was able to get to the cross and beat a frozen Perez a beautiful little flick header.
The win set up the Gold Cup final between the US and Canada.
The US got off to a strong start when defensive midfielder Leslie Osbourne put the US up 1-0 in the 6th minute. Mexico failed to clear a free kick into the box by Cat Whitehill and Osbourne was able to put away a left footed shot from about 15 yards out.
Canada did not wilt and were able to draw the game even before halftime. Again it was a poor clearance of a free kick into the box that led to goal. This time it was Randee Hermes of Canada with the opportunistic strike on a ball in the box that got the Canadians on the scoreboard.
The game was decided just as the match appeared to be headed to penalty kicks. In the 120th minute, US midfielder Carli Lloyd was taken down in the Canada penalty area and the referee awarded the US a penalty kick. Kristine Lilly stepped up and put away the 117th goal of her national team career as the US won 2-1 in OT.
No Way, Jose??????????
Mark Flannery for Yanks Abroad
Eugene Peysakh for Yanks Abroad
Whether Jose Pekerman is or is not named as the next head coach of the US Men's National Team, at least this has been a fun rumor to knock around.
Personally, I'd rather have Jurgen Klinsmann as the next head coach. But, the Eugene Peysakh article does have me looking at the possibility of Pekerman taking over for Bruce Arena with a little less dread as before.
The one good thing that would come out of it would be the rant I'd get to hear from Soccer Sam when he finds out that US Soccer has hired a coach for the US Men's National Team that can't speak English. I have a feeling that would be a classic radio moment all by itself.
Speaking of Bruce Arena..................
Bruce Arena's re-making of the NY Red Bulls has begun.
Gone are the Red Bulls' most talented player (Guevara) and their most famous player (Meola) amongst others and in is a boatload of cap space, a second Designated Player (aka The David Beckham Rule) slot and former MetroStars defender Tim Regan.
Given that the Red Bulls gave up Guevara to add a second Designated Player slot, the natural question is now about who the Red Bulls are going after this offseason. Big Apple Soccer.com is reporting that former US captain Claudio Reyna, who played for Bruce Arena not only with the national team, but also at Virginia, and former Portugal captain Luis Figo are at the top of the Red Bulls offseason shopping list.
When Arena was announced as the man to take over MLS' version of Moby Dick people wondered what Bruce would have up his sleeve. So far, it has been fun to watch.
The views and opinions expressed in this column are those of the author, and not necessarily those of the Rochester Rhinos or SoccerSam.com. Feel free to send any comments or complaints to news@soccersam.com. James promises to read (but not to respond) to all of them.