June 19, 2007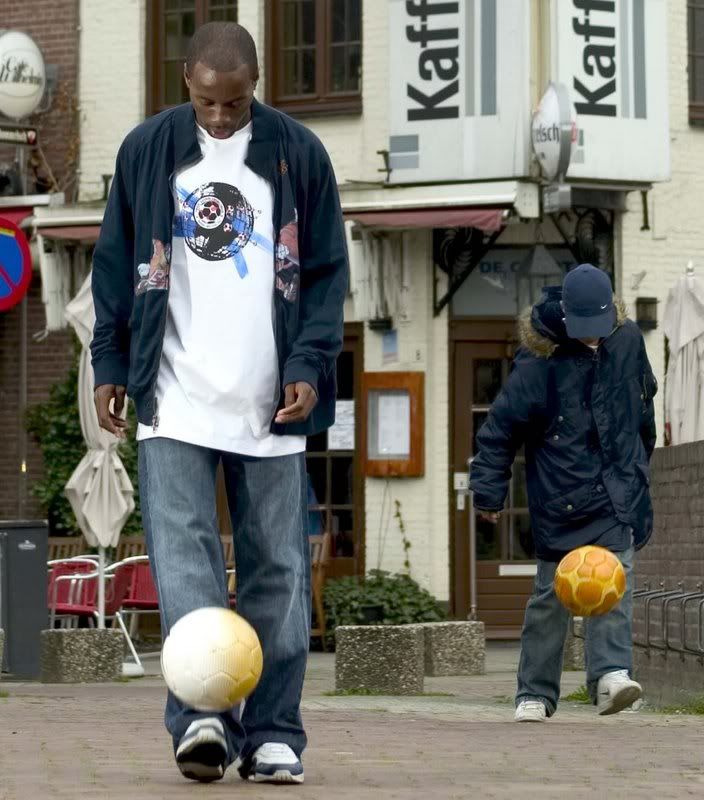 - US Soccer.com has a solid Q&A with Carlos Bocanegra and the yesterday it came out in the USMNT Blog that USMNT & KC Wizards defender Jimmy Conrad is the one that asked if Taylor Twellman was wearing a Youth Large jersey versus Panama. Given the cracks that Jimmy took at the size of Taylor's dome (huuuuuge) and his jerseys (tighter than John Stockton's shorts) when he was doing MLS Radio last season, it's not a surprise.
- MLSNet.com has a couple of solid columns this week. Steve Davis has his informative wrap up of last week's games and Tino Palace has his entertaining view on things. And I can definitely relate to the What Not To Wear issues in Tino's life.
- Fox Soccer.com has a couple of takes that I'm wondering what these guys are thinking. First it's an AP report out of London saying that Beckham will have a rough time in LA. Not to be outdone, LA Galaxy GM Alexei Lalas calls the EPL an "inferior product".
Maybe I should rip ESPN Radio's "Mike & Mike In the Morning" and have a just shut up vote for these two articles.
If you want to shoot an e-mail to news@soccersam.com with your vote, I'll have results up in a few days. Well, if anyone takes the time to vote............
- The "American" that is attempting to take over Blackburn Rovers has been named. But does he really count as an American just because that's where he's making his living currently?
Not to me........
- With MLS and US Soccer putting more of an emphasis on youth development over the past 12 months, Ives Galarcep is doing a series on the Red Bulls youth system which is way ahead of the curve on this one.
I can't wait for the Rhinos to go public with their new youth soccer initative. My talks with Rhinos Women Head Coach Peter Amos about what's in store have me a lot mroe optimistic about things than before I talked to him.
- Don Garber was interviewed by the Salt Lake Tribune recently. One of the topics was future expansion. And Garber's recent hints about a second team in New York have hit the pages of the New York Times. Jack Bell is reporting that the NY Mets are looking at buying into MLS and placing a team near Shea Stadium and the US National Tennis Center.
I think that would be the perfect location for an MLS team in New York City. This news means that now two MLB owners are trying to buy into MLS with Oakland A's owner Lew Wolff trying to bring back the San Jose Earthquakes.
- And if the Stampede want to turn the Carolina RailHawks Supporters Group's chants against their team when they come to town, here is their songbook.
The views and opinions expressed in this column are those of the author, and not necessarily those of the Rochester Rhinos or SoccerSam.com. Feel free to send any comments or complaints to news@soccersam.com. James promises to read (but not to respond) to all of them.