December 5, 2006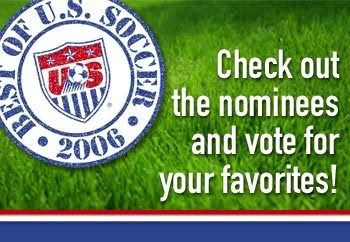 Vote for U.S. Soccer Athletes of the Year
Abby Wambach is once again up for U.S. Soccer Female Athlete of the Year. In 2006, Abby moved up to sixth all time in goal scoring for the USWNT and scored both goals against Mexico in the CONCACAF Gold Cup Semifinal that punched the US's ticket to the 2007 FIFA Women's World Cup in China.
Vote for Best of U.S. Soccer Awards
Again in 2006, there are a bunch of categories where fans can show their Rochester pride. Here is a rundown of the local people, places, and events that are up for Best of U.S. Soccer Awards in 2006:
Best Soccer Bar: Monty's Corner (Rochester, NY)
Best Soccer Store: The Soccer Shack (Rochester, NY)
Best Goal: Abby Wambach vs Ireland & Abby Wambach vs Mexico
Best Performance (Player) - Abby Wambach vs Mexico in Rochester, NY on September 13th
Best all access Video: Wambach at Home
Best Fan Atmosphere: USWNT vs Mexico in Rochester, NY on September 13th
The calendar debate takes an interesting twist
For a while now, people that believe that MLS needs to become more like the big European leagues have said that if MLS were to adopt the same schedule as say the EPL, that would be a step in the right direction.
Well, FIFA president Sepp Blatter is suggesting that the European leagues look into less games over the winter and that they should play through the summer months. Blatter is looking for larger windows for international matches and the bigger clubs in Europe are said to be in favor of the move.
Also, FIFA may be taking on the European Union as they try and implement a 6+5 rule (6 home based players and 5 foreigners). FIFA has reached an agreement on the formula with FIFPro, the worldwide union of professional players, Blatter said. But, the rule would go against the European Union's regulations on a free labor market. FIFA is hoping that the European Union will keep their noses out of the business of professional soccer. But, my guess is that is as likely as Congress staying out of Major League Baseball's business with regards to steroids.
Two weeks and counting.............
Jamie Trecker is reporting that Jurgen Klinsmann will be named the next head coach of the US Men's National Team within the next two weeks.
Just in time for Christmas!!!!!!!!!!!
The views and opinions expressed in this column are those of the author, and not necessarily those of the Rochester Rhinos or SoccerSam.com. Feel free to send any comments or complaints to news@soccersam.com. James promises to read (but not to respond) to all of them.