May 18, 2006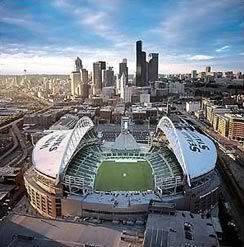 http://aleague.uslsoccer.com/home/133077.html
http://uslpro.uslsoccer.com/stats/2006/117014.html
http://www.rochesterdandc.com/apps/pbcs.dll/article?AID=/20060518/SPORTS05/605180366/1007/SPORTS
http://www.rhinossoccer.com/news/article.php?id=264
http://seattletimes.nwsource.com/html/soccer/2003001734_sounders18.html
Unfortunately, last evening's thrilling 2-1 Rhinos win in Seattle versus the Sounders took place way past my bed time. So, I was unable to feel downtrodden when Matthew Delicate missed high on a pretty wide open net. I was unable to get the rush when Delicate got the Rhinos on the board in the 70th minute. I was unable to say "Here we go again!" when the Rhinos conceded a 75th minute goal off of a corner kick. And I was unable to have the joy of celebrating Greg Howes' 50th USL goal as he cleaned up a misplay by the Sounders' keeper in stoppage time to keep the Rhinos perfect through 4 games in 2006.
So rather than try and fake it, I'll just point you off into the far reaches of cyberspace and allow others describe what went down in Seattle last evening.
Maybe I'll be able to stay up late tomorrow evening when the Rhinos take on the Portland Timbers............
The views and opinions expressed in this column are those of the author, and not necessarily those of the Rochester Rhinos or SoccerSam.com. Feel free to send any comments or complaints to news@soccersam.com. James promises to read (but not to respond) to all of them.