March 22, 2010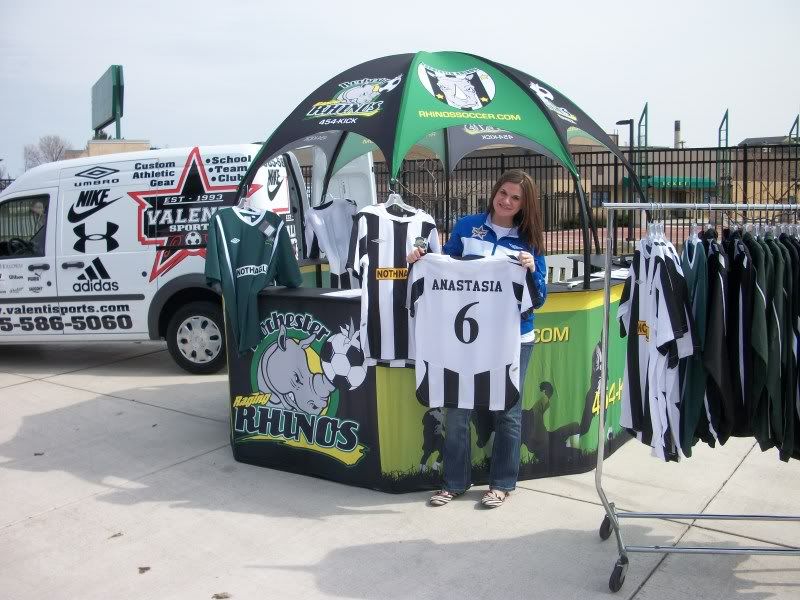 Rhinos Soccer.com
The Rhinos had a solid Saturday on and off the field from all reports.
First, they beat the visiting Montreal Impact 1-0 in a pre-season game.
Given that Montreal has had a much longer pre-season, is undergoing much less change, and the fact that they were taking the match so seriously that head coach Marc Dos Santos wouldn't come on Kick This! over 45 minutes before kick off, I was pleasantly surprised at the result.
And it will be very interesting to see how many of the signed players that have yet to impress stay on the roster and how many of the trialists that have impressed will earn contracts.
With two more preseason games scheduled, I would expect that some more moves will be made rather quickly.
The off the field good news was around Valenti Sports having great deals on the 2010 Rhinos jerseys and the fact that if you were at the game on Saturday, you could have left with a personalized jersey that was printed while you watched the game.
If you didn't get your jersey on Saturday, you can stop by the Valenti Sports store in East Rochester to get one. But you might want to act quick as they have a pre-season sale with jerseys available for $49.99 right now.
New MLS CBA:

- Ridge Mahoney at Soccer America has some behind the scenes on what the new MLS CBA looks like.
- Landon Donovan said things came together quickly and he actually gives Don Garber some props, too. 
- Steven Goff wonders if the 24 player roster limit will include home grown (ie players from the club's youth system) players or not.
- WV Hooligan wonders who won the CBA? To me, both sides win by avoiding awork stoppage.
Red Bull Arena Opening:
- The Red Bulls Reader blog has the video that most people are linking to for highlights.
- The Offside Rules had fun at opening night.
- The MLS Insider blog has a bunch of nice photos from the evening.
- Mike Petke was stoked by the atmosphere.
News & Notes:
- It looks to be another 2 to 4 weeks before Charlie Davies is training with his teammates at Sochaux.
- In a very interesting move, the Chicago Fire have parted ways with starting GK Jon Busch.
- Eddie Johnson had a nice goal for Aris over the weekend. It doesn't appear that Freddie Adu made it onto the pitch, though.
- Grant Wahl asks if anyone knows if a club goal in Europe by an American can top Clint Dempsey's chip that pushed Fulham past Juventus.
- I like the Obsidian colorway of the new Nike Mercurial Superfly II waaaaay better than the original purple colorway. Now they just need to make Clint Dempsey a "Don't Tread on Me" version for the World Cup!
The views and opinions expressed in this column are those of the author, and not necessarily those of the Rochester Rhinos or SoccerSam.com. Feel free to send any comments or complaints to news@soccersam.com. James promises to read (but not to respond) to all of them.