October 18, 2006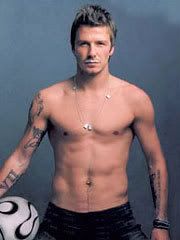 Grant Wahl:Note to MLS: Get Beckham
My favorite MLS non-story story is popping up yet again.
I guess the powers that be have grown tired with speculating on who might be the next head coach of the US Men's National Team, so they've moved on to Beckham Watch 2006.
SI's Grant Wahl uses the reports that contract extension talks between Real Madrid and Beckham's camp have stalled as a jumping off point to once again push the idea of MLS going down the NASL route and chase a true world superstar.
It's probably a pretty bad example, but did adding Romario and Zinho to Miami FC really help the club or the league all that much this past season?
Personally, I don't see how adding one player like Beckham will be all that huge for MLS. I think that MLS needs to get to the point financially where every single club can afford to get their own Beckham and then you'd have a formula for success as long as the "Beckham exceptions" are used on players that produce in MLS and draw fans as opposed to players that view the US as a vacation spot. You know, like a certain German superstar that played for the MetroStars once upon a time.
The bigger question to me is will there ever come a time where markets like Columbus and Kansas City can not only afford to have a world class star on their roster, but will they ever be able to lure a world superstar to their city? Using Beckham as an example, I could see him living in LA or NY, but for some reason I can't see Posh and Soccer Spice laying down roots in Salt Lake City, Utah.
Jonah Freedman sits down with Youri Djorkaeff
Youri has some interesting takes on world superstarts coming to MLS during the twilight of their careers and he even says that the Red Bulls weren't that upset with him taking in the French games at the World Cup.
Ummmmm, yeah. I'd love to hear Mo's take on that last one......................
Meola thinking about leaving the Red Bulls this offseason?
Meola might leave to extend career
If MLS comes calling for Scott Vallow and Kenney Bertz this offseason, perhaps there is a deal that can work for both sides?
I mean, if the Rhinos need a marquee guy to try and sell suites and club seats at PAETEC Park, could they ask for anything more than Tony Meola?
Hey, they could throw in a try out with the Bills while their in town for training camp!
The views and opinions expressed in this column are those of the author, and not necessarily those of the Rochester Rhinos or SoccerSam.com. Feel free to send any comments or complaints to news@soccersam.com. James promises to read (but not to respond) to all of them.