March 15, 2006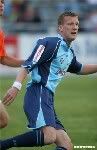 Last season, Chad Severs had a very successful rookie pro season with the Harrisburg City Islanders of the USL 2nd Division. Chad finished the 2005 season second in the USL 2nd Division in goals and points. He also brought home a couple of league awards as he was named the USL 2nd Division Rookie of the Year and was named a 2nd team All-League selection. This year, Chad will take another step up in competition as he moves to the USL 1st Division and helps to bring another championship to Rochester.
SoccerSam.com: How did you get into soccer?
Chad Severs: My father, Wayne introduced me to the game of soccer. He threw a ball into my crib at an early age and by the time I was 4 years old I was playing in a local league against 7 year olds. I can actually remember scoring my first goal in our final regular season game and from that time on, all I wanted to do was play soccer.
SS.com: Who was your biggest soccer influence growing up?
CS: My biggest soccer influence has been one of New Jersey's finest youth coaches, Loy Urbina. He has been a coach, mentor, and friend, for over 10 years and has given me all the necessary tools to become a professional soccer player. My parents, Wayne and Amy have also been a major influence in my soccer career by supporting and believing in me. My dad was always there kicking the ball with me in the backyard and driving me to practice sometimes as far as 2 hours away. He encouraged me to become the best player I could be and instilled confidence in me at an early age.
SS.com: Who was your biggest soccer idol growing up?
CS: Ronaldo
SS.com: How would you describe your game to someone that hasn't seen you play?
CS: I would describe myself to someone as a tireless, high energy forward who gets himself in good positions to score goals and has a quick release often surprising goalkeepers.
SS.com: What player do you try and model your game after?
CS: I don't necessarily try to model my game after one particular player. I like to watch and learn from all players to help improve my game. Recently I have been watching a lot of EPL games and learning from Ruud van Nistelrooy, Thierry Henry, and Fredrik Ljunberg. All of these players possess different qualities that make them great attacking players and goal scorers.
SS.com: What was your favorite soccer team growing up? (If it was the MetroStars, what do you think of the ownership and name change?)
CS: My favorite team growing up was the national team of Brazil. As for the MLS, I did support the Metrostars. Personally, I believe the new ownership and name change can only be a good thing for the MLS. It looks to be in line with the leagues objectives and a great decision for the future of the MLS. It may take some time for the fans to "buy" into the new idea, but I think it is interesting and exciting. Raging Rhinos vs. Red Bulls in the Open Cup, sounds good to me.
SS.com: How did your game develop during your time at Penn State?
CS: My technical ability and speed of play improved during my time at Penn State. I also developed my ability to finish in the box and get in better positions to score.
SS.com: Could last season with Harrisburg have gone any better?
CS: The only thing that could have been better in Harrisburg was to bring home the championship. We finished the year losing in the semifinals to the eventual champs, Charlotte, but were a little disappointed because we believed we had a team that could take home the cup. Otherwise, it was an awesome season and I am grateful for my time in Harrisburg with the City Islanders.
SS.com: You finished strong last year. Was that a matter of just learning the pro game and everything clicking for you late in the year?
CS: It definitely was a matter of just learning the pro game, but I think the main reason was that I arrived in Harrisburg a day before our first regular season game due to training with Rhinos for a couple of weeks. It took me some time to get settled, mix in with the guys, and prove my worth. After getting to know the guys and getting acclimated everything started to click and come together. We were playing quality soccer and the ball was bouncing our way.
SS.com: Do you think your experience at camp last year helps you this time around?
CS: Yes, I had the opportunity to come in for a couple of weeks during last years training camp and believe that this time around I will know more of what is expected of Coach Calloway.
SS.com: What are you doing to get ready for training camp?
CS: I have been following the fitness program provided by the Rhinos and touching the ball as much as possible.
SS.com: Coach Calloway has mentioned that you could play both up top at forward and in the midfield. Where would you feel most comfortable?
CS: I would feel most comfortable playing forward, but I am keeping an open mind going into training camp and understand I may be used in different positions. I have played in the midfield and other positions but I am looking to get onto the field wherever the teams needs me and win a championship.
SS.com: What goals do you have heading into camp and your first season in Rochester?
CS: I am excited to be heading to Rochester for my first season with the team, and like any other player, I want to bring a championship back to the city of Rochester. My first objective is to come into preseason fit and with a good attitude. I will be looking to learn from the veterans, contribute to the team as much as possible, and earn a spot in the starting eleven.
SS.com: The Rhinos will hope to have 14,000+ fans at the opening of PaeTec Park. What's the biggest crowd you've ever played in front of?
CS: 12,000. I was playing in a tournament with the Region 1 ODP team in Holland. We were facing Robin van Persie (a current Arsenal star) and the Dutch youth side of Feyenoord in the stadium De Kuip.
SS.com: Veteran defender Scott Schweitzer is a NJ guy, too. You aren't a fellow disgruntled Knicks fan are you?
CS: No. Since, I am from the southern New Jersey coast and live only about an hour outside of Philadelphia, I am a 76ers fan.
SS.com: What do you like to do in your free time?
CS: I am from Ocean City and live only three blocks from the beach so, if it is the summer time, and I am not playing soccer, you could find me down at the beach, bodyboarding. If I get any free time in the next month, I will be following college basketball and March Madness. I also enjoy golfing.
SS.com: What is the craziest superstition that you seen a teammate have?
CS: I can't really recall too many crazy superstitions, just the normal routines of teammates getting ready for games.
SS.com: What is the best nickname you've ever been given and the worst nickname you've ever been given?
CS: Best nickname- "Golden" Worst nickname- "Sergeant Severs"
SS.com: Who do you think will win the World Cup?
CS: I want the United States to win, but I think Brazil. I wouldn't mind seeing an African nation win.
The views and opinions expressed in this column are those of the author's, and not necessarily those of the Rochester Rhinos or SoccerSam.com. Feel free to send any comments or complaints to news@soccersam.com. James promises to read (but not to respond) to all of them.