June 8, 2006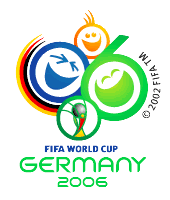 I've already requested vacation time for the US versus the Czech Republic and Ghana. But, around the world 24 hour flus will be on the rise for the next month as the World Cup kicks off in Germany tomorrow starting at noon.
Germany will take on Costa Rica from Munich and the entire world will be watching. Here is my speed round predictions for the opening 4 days of the tournament:
Friday:
Germany v Costa Rica - German captain Michael Ballack is angry. And my guess is that the Ticos don't want to see him when he's angry. My prediction: Germany rolls Costa Rica 2-0 in front of the home fans.
Poland v Ecuador - Can you ever really pick against a European team on European soil unless the opponent is a powerhouse like Brazil or Argentina? I can't do it. My prediction: 1-0 Poland in a match that isn't really that close.
Saturday:
England v Paraguay - Will Wayne Rooney's broken foot heal in time for England's opener? Will it even matter? MY prediction - England rolls with or without Rooney. 3-1 England is the call.
Trinidad & Tobago v Sweden - Ex-Rhino Anthony Rougier was called into T&T camp prior to their announcing the World Cup roster. Enough said. My prediction: Sweden wins big 4-0.
Argentina v Ivory Coast - On paper, Argentina should roll. But, the Ivory Coast, led by Chelsea striker Didier Drogba, is one of the wildcard teams in this World Cup. My Prediction: Argentina wins, but it is a close one: 2-1.
Sunday:
Serbia & Montenegro v Netherlands - We have our first match up of two European teams. The Dutch team is too talented and too deep to lose this one. My prediction: The Dutch win 1-0.
Mexico v Iran - I've gone six matches without predicting an upset. So why not start here with Mexico playing Iran? My prediction: Iran 2 Mexico 0. Mexico losing 2-0 sounds familiar for some reason..........
Angola v Portugal - Can Portugal suffer a melt down in their World Cup opener two times in a row? Naaaaah. My prediction: Portugal 3 Angola 0
Monday:
Australia v Japan - Japan's Hidetoshi Nakata has come out and claimed that his team has no heart. I'll take his word for it. My prediction: Australia 2 Japan 1
United States v Czech Republic - My heart says that the US pulls off a stunner for the second World Cup opener in a row. My head says that there is no way the US can beat such a strong European team in Europe. So I'll split the difference. My prediction: A 1-1 draw.
Italy v Ghana - Ghana is another African wild card with a few name players. They even have a Chelsea star, just like the Ivory Coast, in Michael Essien. Add in the Calcio scandal back in Italy and the Italians dealing with late injuries, and here is where I pick the biggest upset yet, right? Wrong. My prediction: Italy wins ugly 1-0.
Whatever happens, head down to the Garage Door for all the World Cup games. The Dean of Soccer, Alex Loj, will be holding down the fort while Soccer Sam is in Virginia Beach with the Rhinos.
The views and opinions expressed in this column are those of the author, and not necessarily those of the Rochester Rhinos or SoccerSam.com. Feel free to send any comments or complaints to news@soccersam.com. James promises to read (but not to respond) to all of them.