November 30, 2006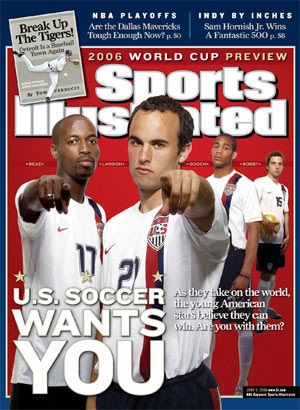 Eurosport.com
US Men's National Team defender Steve Cherundolo has told a German television channel that he has been told that Jurgen Klinsmann will be the next US Men's National Team coach.
US Soccer front man Sunil Gulati has said that he hopes to name a new coach by the end of November and early in December at the latest.
Hopefully this piece of information is more accurate than the previous rumors that Jose Pekerman will be named the US coach.
Soccer with the Rhinos on holiday break
JOIN SCOTT VALLOW and MATTHEW DELICÂTE of the ROCHESTER RHINOS for a HALF-DAY
GOALKEEPER or STRIKER CAMP!!
Sponsored by: Salvatore's Pizza, AP Security, MLJ Press, Info Advantage and Eurotech Soccer Gear
WHEN: December 30, 1-5pm
WHERE: Premier Sports Center: 701 Phillips Road, Webster
Who: Any young soccer player looking to strengthen his / her technique (ages 9-16, boys and girls)
Visit www.scottvallow.com for other applications or to submit any questions or comments.
Carolina RailHawks about to add a goalkeeper and announce signings
There have been a boatload of rumors about who Chris Economides, Scott Schweitzer, and the Carolina RailHawks will be signing this offseason leading up to their inaugural season in the USL 1st Division.
One name that has leaked out is the John O'Hara, a goalkeeper who played on Irish Youth National Teams in the past and has been playing for Sligo Rovers FC in Ireland.
The RailHawks are expected to announce multiple player signings at a press conference next week. With rumors involving a variety of free agents who have played for the Rhinos recently, it will be interesting to see who they have signed. Although, my guess is that there could be more former members of the Richmond Kickers that land in Cary as opposed to former Rhinos.
But, only time will tell.
The views and opinions expressed in this column are those of the author, and not necessarily those of the Rochester Rhinos or SoccerSam.com. Feel free to send any comments or complaints to news@soccersam.com. James promises to read (but not to respond) to all of them.