April 27, 2006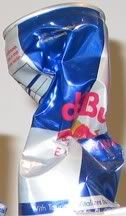 DC United forward Alecko Eskandarian missed most of last season due to the effects of a concussion sustained when New England goalkeeper Matt Reis' knee landed upside Alecko's head early last season. But last Saturday, in his return to the stadium where his father Andranik once played for the Cosmos and where Alecko grew up rooting for the MetroStars, Esky not only scored two goals in DC's 4-1 win over their arch rivals, but he also had one of the best goal celebrations in MLS history, in my opinion.
After scoring the first goal of the match, Esky ran over to the bench where Pittsford, NY native Jamil Walker tossed him a can of Red Bull. Alecko proceeded to take a healthy swig of the popular energy drink, spat it out on the Meadowlands FieldTurf, shook his head, and then ran off to midfield for the kickoff.
MLS apparently didn't think it was as great as I did. They fined Eskandarian $250 for the celebration. There is no word if Walker got fined for his "assist" on the play.
While that was the only goal of the first half, the rout had just begun. Eskandarian got his second of the match in the 59th minute and DC defender Facundo Erpen scored the Sierra Mist Goal of the Week when his 35 yard strike eluded Tony Meola into the upper side netting.
Youri Djorkaeff got one back for the Red Bulls when he snuck a ball between DC keeper Tony Perkins' legs in the 86th minute. But, DC wasn't done as Jamil Walker's blazing speed allowed him to get past the Red Bull defense and answer Djorkaeff's goal only 2 minutes later.
On a cold, rainy day where fewer than 8500 diehard fans showed up to see the second home match in Red Bull NY history, the Atlantic Cup rivalry looked to be more of the same as DC handled NY in pretty much every facet of the game. Whomever takes over for Alexi Lalas as the director of soccer operations with Red Bull NY is going to have their work cut out for them.
Other notes from MLS Week #4:
- I can't stand FC Dallas and their ugly hoops, but I really like Kenny Cooper. Granted, his 3rd goal of the young season was anything but beautiful (the guy headed the ball in sitting on his can), but the guy can play. It will be interesting to see if he is able to work his way into serious consideration for the USMNT that will travel to South Africa for the World Cup in 2010.
- Josh Wolff and Eddie Johnson didn't show me a whole lot in that Dallas-KC match. If either one of them wants to get serious playing time in Germany opposite Brian McBride, they are going to have to gain some confidence ASAP.
- The Galaxy lose 1-0 at home to the previously winless Columbus Crew in Sigi Schmid's return to LA. That has to be strike one against Steve Sampson in Alexei Lalas' mind, right? The drama in LA just keeps getting better and better.
- Red Bull NY's new managing director, Marc De Grandpre, announced prior to the DC-NY match that no former Cosmos will have a part in running Red Bull NY. That ends a whole lot of speculation that Red Bull color analyst Shep Messing was one of the front runners for the position of director of soccer operations. But, that will likely only fuel hopes of a second MLS club being placed in NY and the Cosmos name being brought back. This would also seem to pave the way for former MetroStar Tab Ramos to be named the new director of soccer operations for the Red Bulls.
- All those that thought that Real Salt Lake could hold on to that second half 1-0 lead in Houston, raise your hands now. Anyone? Anyone? Bueller? Bueller?
- Here are some of my thoughts on the Week 5 schedule: Will Lalas fire Sampson at halftime of the ESPN2 game in Salt Lake if the Galaxy are losing at the break? I wish I had the Direct Kick package to watch the DC-Dallas match at RFK. C'bus-KC on HDNet likely won't be the best match of the weekend, but at least it's on before my bedtime! It will be interesting to see what kind of atmosphere there is for the Chivas USA-RBNY match as Bob Bradley takes on his former assistant in Mo Johnston. Is there any chance that the NE offense gets untracked versus Chicago? I'm seriously doubting it.
The views and opinions expressed in this column are those of the author, and not necessarily those of the Rochester Rhinos or SoccerSam.com. Feel free to send any comments or complaints to news@soccersam.com. James promises to read (but not to respond) to all of them.