May 6, 2008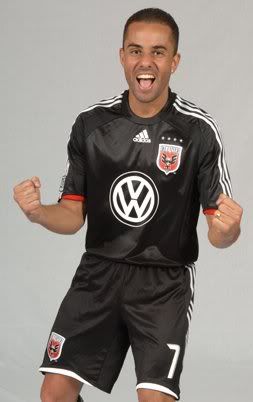 DC United.com
5 years and over $14 million
Plus, an option for the naming rights for the soccer specific stadium that DC United has been trying to get built for years.
That's what German automaker Volkswagen has coughed up to get their logo on the front of the jerseys for DC United. This is the second largest jersey sponsorship deal in MLS behind the deal that Herbalife gave the LA Galaxy and David Beckham.
The fans on DC United should be happy as well as VW is going to pay for parking at Thursday game at RFK versus the Chicago Fire.
The only downer for me is the loss of the trademark adidas three stripes across the front of the DC jersey.
But, I think the logo works nicely with the traditional DC United jersey.
News & Notes:
- Yesterday was not a good day for the former owners of the Rhinos and a good day for NBT Bank.
- Ridge Mahoney's latest at SI.com is a look at FC Dallas midfielder Juan Carlos Toja. The man is more than just a huge head of hair!
- Steve Davis at MLSNet.com breaks down why the Crew are doing so well this season. Personally, I think it's all about Brian Bliss being named the technical director in Columbus!
- If you were wondering where Waldo is, I found him!
- I think any club could use a motivated Ronaldinho. But, AC Milan may be correct if we are talking about fat Ronaldinho!
The views and opinions expressed in this column are those of the author, and not necessarily those of the Rochester Rhinos or SoccerSam.com. Feel free to send any comments or complaints to news@soccersam.com. James promises to read (but not to respond) to all of them.