May 2, 2006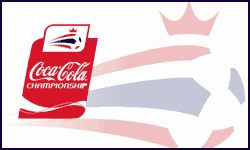 Over a month ago, the Seattle Sounders announced that Coca-Cola Championship club Cardiff City would be visiting Qwest Field on July 18th.
This past week, the Portland Timbers announced that another Coca-Cola Championship club, Coventry City, would be visiting Portland on July 8th to take on the Timbers at PGE Park.
And yesterday, Triangle Professional Soccer in Cary, NC announced that Sheffield Wednesday, also of the Coca-Cola Championship, would be the opponent in the USL 1st Division All-Star game that is being held at SAS Soccer Park on July 19th.
The question now becomes who will the Rhinos be playing in their inaugural season at PaeTec Park? There has been talk of the Rhinos trying to bring in some foreign clubs and with the strong ties to the Cary organization, I wouldn't be shocked if Sheffield Wednesday were to play a match in Rochester sometime this summer.
Hopefully young American defender Frankie Simek gets a lot of playing time for the Owls while they are in the States.
Craig Demmin injury update
We have learned that Craig did not miss the Virginia Beach Mariners' first two matches due to the knee injury that kept him out of the vast majority of the 2005 season with the Rhinos. Craig has sustained a hamstring injury that is expected to keep him out of the Mariners' lineup for a couple of weeks. Hopefully Craig will be back in the Virginia Beach lineup on June 3rd for the first match at PaeTec Park.
The views and opinions expressed in this column are those of the author, and not necessarily those of the Rochester Rhinos or SoccerSam.com. Feel free to send any comments or complaints to news@soccersam.com. James promises to read (but not to respond) to all of them.