February 24, 2007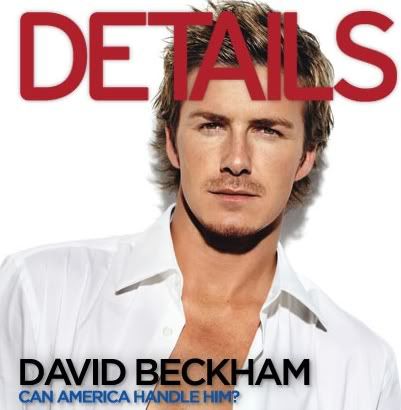 Details.com
The cover story in this month's Details Magazine is whether the US will buy David Beckham. I wonder if Beckham is the first MLS player to grace their cover?
And as to be expected, the article talks more about Madonna, Britney Spears, and Lindsay Lohan than it does Cristiano Ronaldo, John Terry, and Thierry Henry.
The is also an AP report out saying that the base salary in the reproted 5 year $250 million Beckham contract is only $27.5 million over the five years with $222.5 million in potential endorsement and incentives built into the deal based on how much revenue Beckham generates for the club and the league.
No wonder AEG scoffed at Zidane wanting $15 million a year when they are only guaranteeing Beckham $5.5 million a season.
Frank Dell'Apa talks about how the Beckham rule will likely only apply to Beckham.
It will be interesting to see if that is the case in the long run. Certainly, I'm not expecting any really big names to move to MLS in 2007. But, it will be very interesting to see if the heavily incentive based contract that Beckham received will create a similiar situation with another European star over the next few years.
The views and opinions expressed in this column are those of the author, and not necessarily those of the Rochester Rhinos or SoccerSam.com. Feel free to send any comments or complaints to news@soccersam.com. James promises to read (but not to respond) to all of them.