April 18, 2007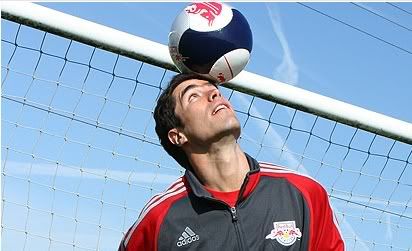 Arena, Red Bulls get their man - NY Red Bulls.com
Argentine scorer signs deal with Crew - Columbus Dispatch
With MLS adding two more foreign born Designated Players on Tuesday, the soccer media is abuzz with talk about what this all means and who could be coming next.
Greg Lalas has a piece about the strong influence of foreigners in MLS and how it's helping raise the play within the league at SI.com, Frank Dell'Apa of the Boston Globe sits down and gets the take of New England Revolution midfielder Steve Ralston on what this means for the league, and it looks as if Dewayne De Rosario is having a tad bit of paycheck envy in Houston according to a Bernando Fallas piece in the Houston Chronicle.
Like many businesses, the key isn't merely in how much money someone spends (just ask George Steinbrenner and Dan Snyder), but rather how you spend the money. Claudio Reyna has already missed a game with the Red Bulls. Will this be the tip of the iceberg and lead Bruce Arena to ultimately regret adding Captain America? Will Blanco blow up the Chicago Fire locker room like many expect? Does Angel have over 5 years of quality soccer left in him? Will Schelotto be able to deal with living in Columbus, Ohio? For the sake of the league, I hope that all these moves work out on the field and off of it. But, history tells us that there will be a mix. Some of these moves will be great and others will be chalked up as huge mistakes that people need to learn from.
More Zidane talk!
Andrea Canales talks to LA GM Alexi Lalas - LA Soccer News.com
I don't know what is more stunning, Lalas talking about adding Zidane or talking about how nobody is untouchable and that he might have to trade away Landon Donovan should they have their two Designated Players in Zidane and Beckham.
Given how badly Landon wants to stay in LA, could there be a huge three way deal where say Chivas USA gives up an insane packages for a two DP slots and flips one to the Galaxy for Donovan? With Donovan counting as a DP in 2008, along with the likes of Eddie Johnson, it will be very interesting to see how this whole thing works out.
The other thing that could come into the mix is if the San Jose Earthquakes are back in 2008, would Donovan be OK with once again being the face of that franchise? That would certainly be an interesting topic of conversation amongst the EQuakes supporters I'd bet!
Marvell Wynne headed north of the border
2006 MLS SuperDraft #1 overall pick Marvell Wynne has been traded to Toronto FC by the New York Red Bulls. He will be re-united with Mo Johnston who, along with Alexi Lalas, traded up to get the former UCLA right back at last year's SuperDraft.
Toronto has had trouble keeping the ball out of the back of their net in their first two MLS matches and they are now looking at adding some help on defense. FoxSoccer.com's Jamie Trecker takes a look at Toronto FC's rocky start to their first season in MLS. It's going to be interesting to see how the 14,000 season ticket holders react if the team struggles like many expansion teams do. At a minimum, the honeymoon appears to still be in full effect as a strong contingent of TFC supporters made the trip to NE to see their club lose 4-0 in the Revs 2007 homer opener.
A couple other notes from around MLS
Will a chance to win a date with Willy Guadarrama be what the Wizards need to pack the house in 2007?
Soccer Insider - Washington Post.com
Maybe it's just me, but I like Tommy Smyth. He's like that old, eccentric, soccer-crazed uncle I never had. Or, Soccer Sam with an Irish accent.
2007 Women's World Cup draw on Sunday
Is their enough depth in women's soccer for the US to get drawn into a "Group of Death"?
With the way things have gone with regards to last year's World Cup draw for the USMNT and the US's draw for the U-20 World Cup, my gut feeling is that if their is a Group of Death, the US will be in it.
But, that won't matter one iota with this team.
The views and opinions expressed in this column are those of the author, and not necessarily those of the Rochester Rhinos or SoccerSam.com. Feel free to send any comments or complaints to news@soccersam.com. James promises to read (but not to respond) to all of them.