November 10, 2006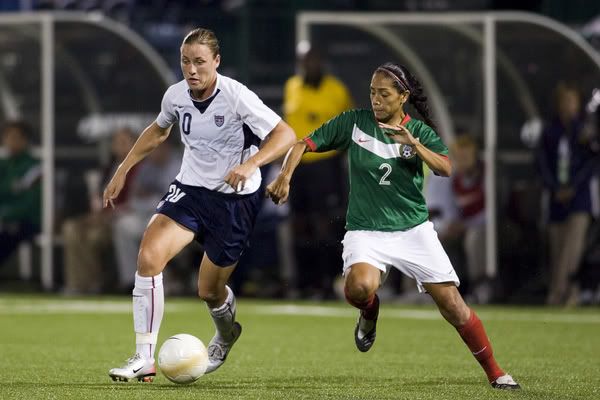 US Soccer.com
The USA will take on the winner of the Mexico-Trinidad & Tobago quarterfinal on Wednesday, Nov. 22, in one of the Women's Gold Cup semifinals at The Home Depot Center. The winner of that game will qualify directly to the 2007 FIFA Women's World Cup.
Despite missing her first game ever due to an injury in the final of the Peace Queen Cup, Abby Wambach has been named to the US roster. US head coach Greg Ryan announced that Wambach's injury was not a high ankle sprain and that he expects her to be able to train prior to the November 22nd match.
While Wambach is one of the veterans of the US squad, she has only played in one World Cup qualifying match for the US. But, she did score a goal in that match during 2002 qualifying leading into the 2003 Women's World Cup.
With a win or a tie in the November 22nd match, the USWNT will break the record for the longest unbeaten string in the program's history. The USWNT is unbeaten in it's last 30 matches with 25 wins and 5 ties over that time.

DC United's Christian Gomez named 2006 MLS MVP
In what was really a two man race between Gomez and Houston's Dwayne De Rosario, the leading scorer on the best regular season squad in MLS took home the hardware.
While Gomez was my pick to win the MVP, I wouldn't have argued too hard against De Rosario winning the award, either. Both players have been the engine that drives each of their squads and were strong MVP candidates.
My guess is that had the voting taken place after the playoffs were concluded, there may have been a different result. Although, given that Gomez was the only player to score in the playoffs for DC United, perhaps not.
MLS Commish Don Garber chats with fans prior to his State of the League address
There wasn't a mention of Rochester and expansion, but there were a few interesting tidbits in Don Garber's online chat with fans yesterday.
Garber talked about the "Beckham Rule", even dropping names like Becks, Ronaldo, and Figo, how DC United hopes to break ground on a new stadium within the next year, and the possibility of a single table in 2007.
It was a nice appetizer ahead of the State of the League address that will take place today at 1pm ET. It will be broadcast live on MLSNet.com for those that were interested.
Red Bull weighs in on Beckham to MLS
Red Bull Says David Beckham Would Lift U.S. Soccer, Drink Sales
Red Bull is obviously hoping that MLS can attract Beckham or Ronaldo or Luis Figo sooner rather than later as they believe players of that ilk will help launch MLS into the top four sports leagues in North America.
Although, to do that they would only need to leap past the NHL which is a distant fourth in the eyes of most people in the US.
Red Bull is obviously a marketing machine and it will be very interesting to see whether their involvement in MLS will end up being a good thing for the entire league or whether they will have a sort of "Cosmo effect" and cause MLS to reach too far, too soon, and ultimately do more harm than good.
MLS has had a slow, but steady plan for growth for the better part of their 11 years in business. But, Red Bull appears to want to speed up the maturation of the league with regards to going after big name players and perhaps getting rid of the single entity system and allowing each team to fend for itself.
While the NY Red Bulls, LA Galaxy, Chivas USA, DC United, and some other teams shouldn't have a problem with that change in strategy, it will be interesting to see how clubs like the Columbus Crew and Kansas City Wizards are able to deal with the potential changes.
The views and opinions expressed in this column are those of the author, and not necessarily those of the Rochester Rhinos or SoccerSam.com. Feel free to send any comments or complaints to news@soccersam.com. James promises to read (but not to respond) to all of them.