September 10, 2006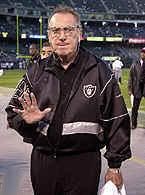 Oakland Raiders owner Al Davis loves the saying "Just win, baby!". Well, that phrase pretty much sums up last evening's game between the Rhinos and the Minnesota Thunder. It wasn't the prettiest game of the year, but the Rhinos were able to secure the 3 points, guarantee themselves a first round bye in the USL 1st Division playoffs, and get themselves within striking distance of finishing the regular season in 1st place.
While Montreal was unable to secure an ugly 1-0 home win over a visitor that is near the bottom of the USL 1st Division standings (Toronto) on a penalty kick goal (Theo Zagar stopped Montreal's penalty attempt), Rochester's Johnny Menyongar converted his second half penalty to give the Rhinos the win.
Championship teams find a way to win when they don't have their A game. A last night the Rhinos brought less than their A game to PAETEC Park. The one area that the Rhinos were pretty solid was in limiting Minnesota's chances.
The Thunder had a couple of good looks at goal. But, the Rhinos were never really tested defensively as the Thunder laid back for large portions of the match.
Also, there weren't any blown offside calls by the assistant referees last evening, so that's always a plus.
The one player for the Rhinos that really stood out to me was Rey Martinez. Rey came on late in the match for Chris Bagley and his fresh legs were evident from the get go. Rey didn't produce any goals, but his pace and touch on the ball did create a few chances late and also kept the ball in the Minnesota half of the field for large chunks of the final minutes.
And given the number of times the Rhinos have given up late goals this season, it was nice to see them kill a match like they did last night.
Now it's on to Charleston. It will be interesting to see how much playing time guys like Martinez, Gbeke (yellow card suspension), Steele, and Edozien will get after getting little or no playing time last night.
Awards Night at PAETEC Park
MVP - Scott Vallow - What can you say other than it would have been highway robbery if Vallow weren't named team MVP this season?
Rookie of the Year - Kenney Bertz - See the MVP discussion. The big question now is can the Rhinos keep Bertz around for his sophomore season or will he be plying his trade in MLS next season?
Leadership Award - Greg Howes - If you aren't going to give it to Vallow, then Howes is a solid choice to me. He's been shuttled back and forth between forward and defensive mid and done it well this season.
Iacovangelo Community Service Award - Jason Perry - First off, can we rename this the Bill Sedgewick Award? Beyond that, this award went to a very deserving guy who has put in a lot of work off the field during a season where he's struggled to get playing time due to a variety of injuries.
Connors and Ferris Comeback Player of the Year Award - Nate Craft - The tough part with this award is that nobody had a Shaun Tsakiris or Lenin Steenkamp type comeback this season. Craft has been a pleasant surprise on the Rhinos defense, but what was he coming back from?
Eurotech Most Couragous Player Award - Frankie Sanfilippo - It was nice to see all three of my personal "core 3 players" get honored last night. Frankie is a guy that works his tail off game in and game out. And when they announced that he'd won this award last night, I mentally kicked myself for not thinking of it beforehand.
Playoff picture update
After last evening's games, the USL 1st Division playoff picture got a tad bit clearer. Here is where things stand today.
Rochester and Montreal have locked up the two first round byes.
Charleston, Vancouver, and Miami FC have all clinched playoff spots.
Montreal and Rochester can finish 1st or 2nd.
Charleston and Vancouver can finish 3rd or 4th.
Miami FC can finish 5th or 6th.
Seattle can finsih 6th or miss the playoffs.
Puerto Rico can finish 5th (with a win over Miami FC at home) and things get sticky with a tie or a loss.
Atlanta needs a win and some help (a Miami FC win in Puerto Rico) to get in as Atlanta losses the head to head tiebreaker with the Islanders.
So, basically, check back tomorrow for the playoff picture to be finalized.
The views and opinions expressed in this column are those of the author, and not necessarily those of the Rochester Rhinos or SoccerSam.com. Feel free to send any comments or complaints to news@soccersam.com. James promises to read (but not to respond) to all of them.